Bulldog Personal Checks
These French and English Bulldog checks can be ordered online in a wide variety of fun designs! All personal check styles are available in your choice of single or duplicate format, and can be used for your checking account at any U.S.A. bank.
---
Handsome English Bulldog Checks
Posing for the camera.
---
More English Bulldog Puppies
A bunch of cutie pies!
---
French Bulldog Series Personal Checks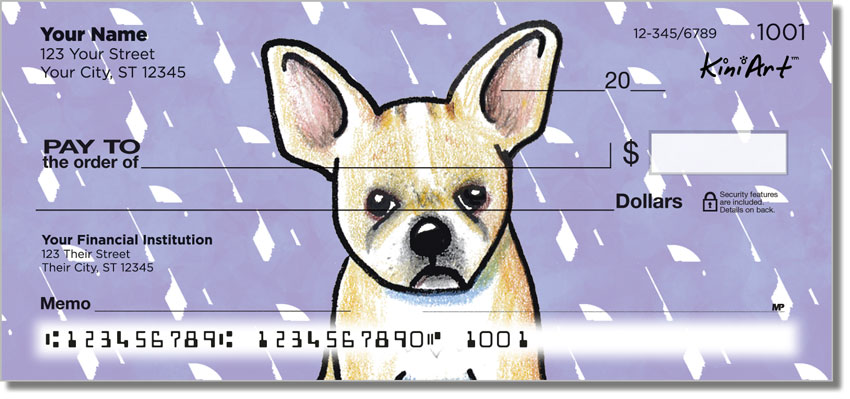 4 drawings.
---
English Bulldogs Pop Art Checks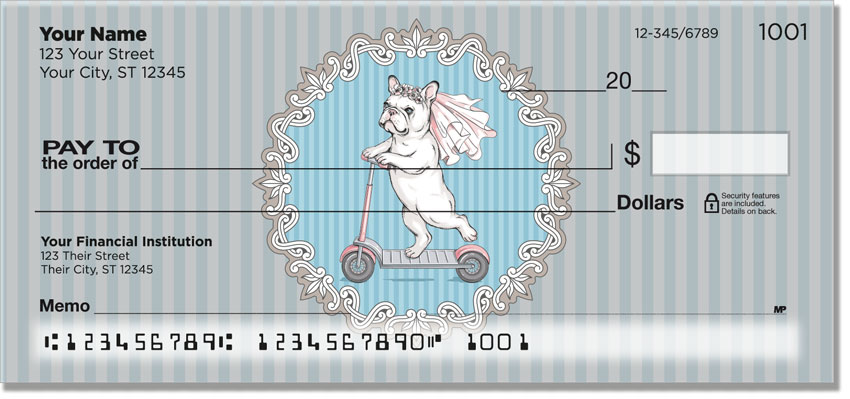 4 images.
---
Adorable Bulldogs Personal Checks
A perfect pooch that's pocket sized, this little guy is always freshly bathed and never chews up socks!
---
Bulldog Art Checks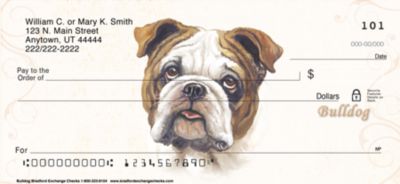 4 different portrait paintings by artist Linda Picken. Matchin labels and printed checkbook cover also available.
---
Cute English Bulldog Personal Checks
4 full-color photos of Bulldogs with various facial expressions.
---
Bulldogs With Marine Attitude Checks
4 hilarious photos with Marine quotes: "Always Faithful", "Mess with the best, die like the rest", "Retreat, Hell... We just got here!", and "Cocked. Locked. Ready to rock."
---
English Bulldogs With Marine Attitude Series 2 Checks
This second series of personal checks includes the following captions: "Once a Marine, Always a Marine", "Tell that to a Marine", "Band of Brothers", and "The few, The proud".
---
Cartoon Marine English Bulldog Rippin N Roarin Checks
---
Romping English Bulldogs Checks
---
French Bulldog Personal Checks
A Black French Bulldog in 4 different poses.
---
More French Bulldogs Checks
4 adorable color photos.
---
Cute French Bulldogs Checks
4 up-close color photos.
---
Pit Boss Personal Checks
Funny picture of a bulldog smoking a cigar.
---
Don't Mess With Me Personal Checks
Funny drawing of a bulldog with a spiked collar.
---
Bulldog Buddies Checks
A Bulldog puppy poses with his rubber ducky friend. 4 poses.
---
Fun With Bulldogs Personal Checks
4 rotating images.
---
Tough Bulldogs Cartoon Checks
4 colorful images.
---
Zelda Wisdom Checks
---
BULLDOG CHECKS | BULLDOG T-SHIRTS | CALENDARS | BULLDOG MAGNETS | BULLDOG STICKERS | BUTTONS | ADDRESS LABELS | CHECKBOOK COVERS | BULLDOG MUGS | FIGURINES | BULLDOG GIFTS | CHARMS/PENDANTS | KEY CHAINS | STUFFED ANIMALS | iPHONE COVERS | iPOD TOUCH COVERS | iPAD MINI COVERS | KINDLE COVERS | POWER BANKS DOG BOUTIQUE |
---