Bulldog Gifts
Fun gift items and home decor for Bulldog Lovers.
---
---
Custom Personalized Paw Prints Dog Food Bowl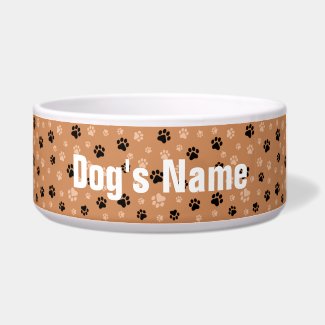 Add your dog's name to this food bowl with cute paws pattern printed all around. Great gift for any dog lover! A BulldogPersonalChecks.com Exclusive!
---
Small Bulldog Plush Stuffed Animal
Sylvie stands 8 inches tall and is fully machine washable-perfect for all kids ages 24 months and above.
---
Bulldog Large Plush Stuffed Animal
16 inch Plush Stuffed Animal. With his distinctive face and no nonsense look, your little ones will make him the leader of the playroom.
---
French Bulldog Cookie Jar
White porcelain Treat Jar with dog portrait by internationally acclaimed artist Linda Picken.
---
"Faithful Friend" Dog Lover's Leather-Trimmed Tote Bag
Bearing an adorable image of the breed you love, this Ardleigh Elliott exclusive lets you take your beloved pup wherever you go! Crafted of the highest quality materials, this charming dog-themed tote bag features a large image of the breed of your choice accented by real leather trim and handles. Handsome metal rings and feet add fashion flair and durability while the zipper top and front pocket open to lined compartments that hold your belongings. Complete with a breed-specific sculpted metal dog charm on the front zipper for a delightful tribute to your beloved pet or to give as a unique dog lover gift.
---
Bulldog Blanket
Our beautiful 54 x 54 inch Bulldog Lap Square brings out the dignified style of this loyal pup with artistic flair and beautiful color. This fabulous Throw is designed with the look of an heirloom tapestry that's ideal for dressing up any room. Give a gift of Bulldog love!
---
Bulldog Pillow
Featuring the adorable face of this loving and loyal dog breed, this 17" x 17" square Decorative Pillow will make a striking addition to any living room or parlor.
---
Bulldog Wind Chime
Measuring 24 inches the Bulldog windchime makes a great gift for the dog-lover in your life. Or, you can treat yourself to these unique wind chimes and laze the day away listening to their incredible sound.
---
"Area Patrolled By Bulldog Security" Sign
11 inches square and made of styrene. Weather resistant so you can put it outside or in. It's a cute warning sign for home, office, deck, patio, or fence.
---
Bulldog Crossing Sign
Measures at 12 x 12 inches square and comes with a predrilled hole for easy installation. Strong like this distinguished breed, the Warning Sign is made of strong, rust resistant aluminum and will stand out on any post, fence, deck or wall.
---
Detailed Bulldog Figurine
Stands at approximately 4-5 inches tall and are made of beautifully hand painted stone resin. The perfect Collectable, this daring dog will impress all your friends and will look amazing on any mantle, shelf or display case.
---
French Bulldog Figurine
Sculpted from stone resin then skillfully hand painted with fine detail. A delightful little pup loaded with personality and charm who looks ready for a small beret and a big hug. Approximate size of this charming Collectible is 4-5 inches.
---
French Bulldog Kitchen Towel Set
These colorful dish towels are made from absorbent cotton and measure approximately 17 x 28 inches. The 7 x 7 inch potholder is quilted and perfectly matches the delightful towel.
---
Bulldog Dish Towel & Potholder
You'll love putting these out in the kitchen whenever you have guests. The Bulldog towel measures 17 x 28 inches and is made from absorbent cotton. It comes with a matching pot holder that measures 7 inches square.
---
Bulldog Hand Towel
This embroidered Bulldog hand towel isn't just for the kitchen or bathroom. Versatile and attractive, our stylish Bulldog towel makes a useful addition to the golf bag of any Bulldog lover who plays, or let a pair of these hand towels add the perfect British finishing touch to any home bar or pub. Of course, they are an unbeatable accent for the bathroom towel rack or the kitchen sink. Made from soft, absorbent 100% combed cotton, our towels measure 16 x 25 inches.
---
French Bulldogs Picture Frame
Four Frenchies surround your favorite 4 x 6 inch photo. The three dimensional likenesses are rendered in durable poly resin with a variety of their natural colorings.
---
Bulldogs Photo Frame
5.5 x 7 inch 3 dimensional frame will hold a 3.5 x 5 inch photo.
---
Bulldog Floor Mat
An ideal accent rug, as well as practical for any entry way, with a soft cushiony top and no-skid bottom. Measuring 18 x 27 inches, this mat sets a friendly tone for your home when used as a welcome door mat.
---
Design Toscano 3 inch Stop Drop & Roll Bulldog Statues - Set of 3
A trio of British bulldogs with spiked collars. A playful collectible piece that will capture the heart of any dog lover, this statue is cast in quality designer resin and hand-painted with plenty of personality.
---
Bulldog Key Chain
2 inch pewter key ring.
---
Bulldog Bobble Head
3" figurine has a spring mounted head that responds to the slightest touch.
---
Big Mouth Bulldog Statue by Design Toscano
Whether collecting loose change, paper clips, or your jewelry in his wide open mouth, this dog sculpture mocks, endears and makes a fun gift for anyone with a sense of humor.
---
Brutus The English Bulldog Statue
He may not fetch your slippers, but our hand-painted, quality designer resin sculpture is life-size and realistic enough to make guests do a double take at the new friend guarding your home or garden. 15.5" H x 11.5" W x 29" D.
---
Bulldog Metal Calendar Frame
This Bulldog silhouette and paw print-embellished wrought iron calendar frame will complement any decor. Turn your favorite calendar into framed art! Calendar hangs from built-in hook. Fits calendars up to 14'' wide and 24'' high (when open). Match any décor—this backless calendar frame lets your wall color show through. Use the sturdy, built-in storage basket to hold pens, car keys or mail. Enjoy this year and for years to come!
---
Bulldog Socks
For the Bulldog enthusiast who has everything, try a pair of these adorable socks.
---
English Bulldog Bottle Opener
You will make even the most functional chore fun when you use this collectible iron hand painted Bottle Opener cast from turn-of-the-century British mold!
---
Bulldog - Blue Collar and Lead Set
Woven ribbon sewn to sturdy nylon webbing for a beautiful, yet durable set. Exclusive designs are sewn the full length of lead.
---
Bulldog Spoon Rest
This ceramic spoon rest features a beautiful image of your favorite breed. Use as a spoon rest on the counter for a functional accent to your kitchen. Hang on the wall for a one-of-a kind piece of art (hole included for hanging).
---
BULLDOG CHECKS | BULLDOG T-SHIRTS | CALENDARS | BULLDOG MAGNETS | BULLDOG STICKERS | BUTTONS | ADDRESS LABELS | CHECKBOOK COVERS | BULLDOG MUGS | FIGURINES | BULLDOG GIFTS | CHARMS/PENDANTS | KEY CHAINS | STUFFED ANIMALS | iPHONE COVERS | iPOD TOUCH COVERS | iPAD MINI COVERS | KINDLE COVERS | POWER BANKS DOG BOUTIQUE |
---