Bulldog Address Labels
These custom Bulldog design return address labels can be ordered online in a wide variety of fun styles and sizes! Personal checks are also available to match.
---
Bulldog Peel and Stick Address Labels
Featuring a picture of your favorite breed standing in a lake on the left, these peel and stick labels are easy to use and the perfect size for anything you're sending out. The Bulldog address label measures approximately 2.65 x .875 inches and comes with up to four address lines for personalization.
---
English Bulldog Address Labels
4 colorful images.
---
Bulldog Cute Custom Return Address Labels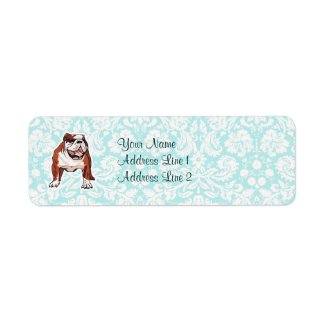 You will love this cute teal damask bulldog bulldogs dog puppy design. Great for gifts!
---
French Bulldog Love Custom Address Label
Cartoon puppy.
---
Bulldog White Return Address Label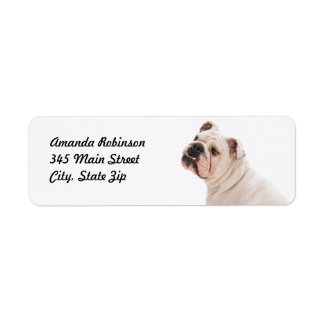 ---
Cute English Bulldog Address Labels
---
French Bulldogs Up Close Labels
Four little cuties posing just for you!
---
Romping English Bulldogs
4 photos of stocky bulldogs at play.
---
Fun With Bulldogs Address Labels
---
Frenchies Return Address Labels
4 full color pics of these big-eared beauties.
---
French Bulldogs Labels
Four different frog dogs at rest and at play.
---
Zelda Wisdom Address Labels
Add a little "Zelda Wisdom" to your mailing envelopes, holiday cards, file folders and more - customize them with these exclusive Zelda the Bull Dog address labels! Four different designs showcase your personal information alongside the hilarious Zelda at her wittiest best.
---
BULLDOG CHECKS | BULLDOG T-SHIRTS | CALENDARS | BULLDOG MAGNETS | BULLDOG STICKERS | BUTTONS | ADDRESS LABELS | CHECKBOOK COVERS | BULLDOG MUGS | FIGURINES | BULLDOG GIFTS | CHARMS/PENDANTS | KEY CHAINS | STUFFED ANIMALS | iPHONE COVERS | iPOD TOUCH COVERS | iPAD MINI COVERS | KINDLE COVERS | POWER BANKS DOG BOUTIQUE |
---